Line 5 Beijing Pub Crawl – Distillery & Baijiu Bars Sept 12 Sat
Here's your chance to check all your favorite Beijing Hutong bars in one night with great specials along the way!
On Saturday September 12th, Capital Spirits The Distillery and Baijiu bars are teaming up with Slow Boat Brewery, Cuju, and Mas Bar. Line 5 Pub Crawlers will get Line 5's best drink deals, plus a passport* that gets them more drink deals.
The Line 5 Pub Crawl Passport Card:
Passports are available at any of the participating bars leading up the event. Collect stamps along the crawl with each drink purchase. Completed passports earn you a free drink.
The Line 5 Pub Crawl Schedule and Specials:
Times for each stop and the specials offered will be:
Slow Boat: 3:00-4:30 [Dongsi]
25 RMB on select brews
Cuju: 4:30-6:00 [Beixingqiao]
Buy one get one on house wine, mixed drinks, Kirin draught and select cocktails
The Distillery: 6:00-7:30 [zhangzizhonglu]
Buy one get one free on Gin and Tonics made with The Distillery's very own craft gin
Mas: 7:30-9:00 [Beixingqiao]
30 RMB on select cocktails and 10 RMB draught pours
Capital Spirits: 9:00-10:00 [Beixingqiao]
Buy one, get one on Baijiu Sours
Don't forget the free rickshaw service between the Distillery and Baijiu Bar every Saturday starting at 9PM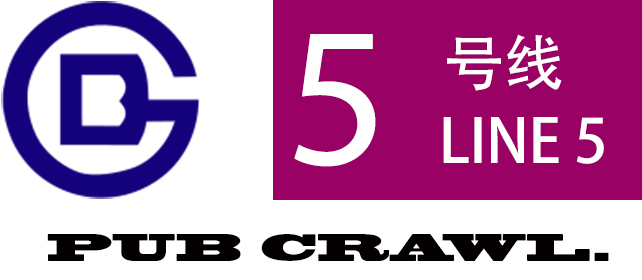 by