Capital Spirits is proud to have hosted many corporate events for various companies and private parties. Please contact us for your next corporate event or private party for booking information.
Past events partners include:
Amcham
German Chamber of Commerce
Volkswagen
Siemens
New Zealand Embassy
Danish Embassy
Columbia University Alumni
Deutsche Gessellschaft fur Internationale Zusammenarbeit (GIZ) GmbH
Weber Shandwick PR Alumni Party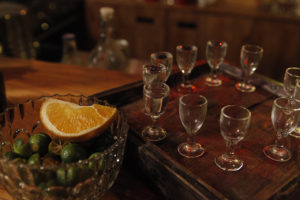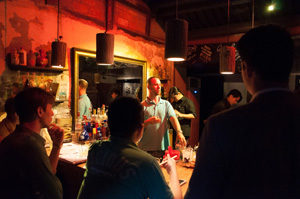 Corporate Events at The Baijiu Bar:
Host a party or corporate event at the baijiu bar where our staff can take your party through an expert baijiu tasting event.  Enjoy discounted cocktails, beer, juices, and baijiu flights.  Catering can be arranged for food pairings, etc.
Suggested capacity:  40 people max, 10 person minimum booking if private party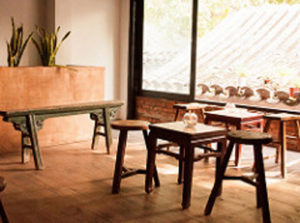 Corporate Events at The Distillery:
Suggested Guest Capacity:
• Distillery Bar Room: 60 unseated, 40 seated
• Roof View Room: 30 unseated, 20 seated
Rooms can be shared with public or reserved for privacy (subject to min attendance fees).
Customize your experience !
Book an exclusive party on the second oor: Weekday :1,000 RMB, Weekend is 2,000 RMB
Book an exclusive party for entire bar (downstairs and upstairs): 5,000 RMB on a weekday, 10,000 RMB on a weekend.
Bottles are 400 RMB each and can include Bombay Sapphire gin, Wyborowa vodka, Wild Turkey Bourbon whiskey, and Plantation 3 Stars or Original Dark Rums.
Other bottles can be negotiated as well.
Ask about special happy hour specials for your exclusive events.
Food Catering For Your Party or Event:
Ask us about arranging catering from local restaurants to make your event complete.
LA Palms : Korean Mexican LA Fusion
Mulu: Asian | Malaysian
Katchup Burgers
Stu 'd: British Gastropub
and more!