Try A Granite Filtered Gin – Seriously Granit Gin from Bavaria Germany The Distillery Bar Beijing
Ok we've heard of cold-filtered beer from Coors, triple distilled scotch, copper filtration (this actually does make a difference), etc but have you ever heard of granite filtration? Attached to the bottle of Granit Bavarian Gin is an actual piece of rock (which you can freeze and use to cool your drinks without watering them down), so you know these guys are pretty serious when they talk about filtering with granite. The gin is made with local botanicals and herbs from Southern Germany and then the end product is carefully filtered through granite to give it a smooth and pure taste. I'm not so sure if this makes a big difference, perhaps it could impart some minerals in the process, but it doesn't really matter because overall I really do like this gin! It's very smooth to drink on its own, not as floral as many other German gins, and has beautiful subtle notes of citrus, coriander and cardamon. The bear's root (native to the region) and gentian root also give the gin an additional complexity.
We like to serve Granit Gin with Thomas Henry Tonic (also from Germany) with a lemon twist or orange peel.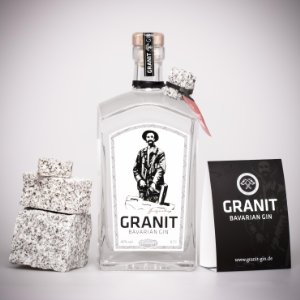 Try a taste of Granit Gin in a cocktail or as part of our Gin Flight at The Distillery by Capital Spirits
The Distillery Bar Beijing
LOCATION: 辛寺胡同23号 (XinSi Hutong #23)
OPEN EVERY Mon -Sat 8PM – 12:30 AM (or later)
CLOSED on Sundays




by